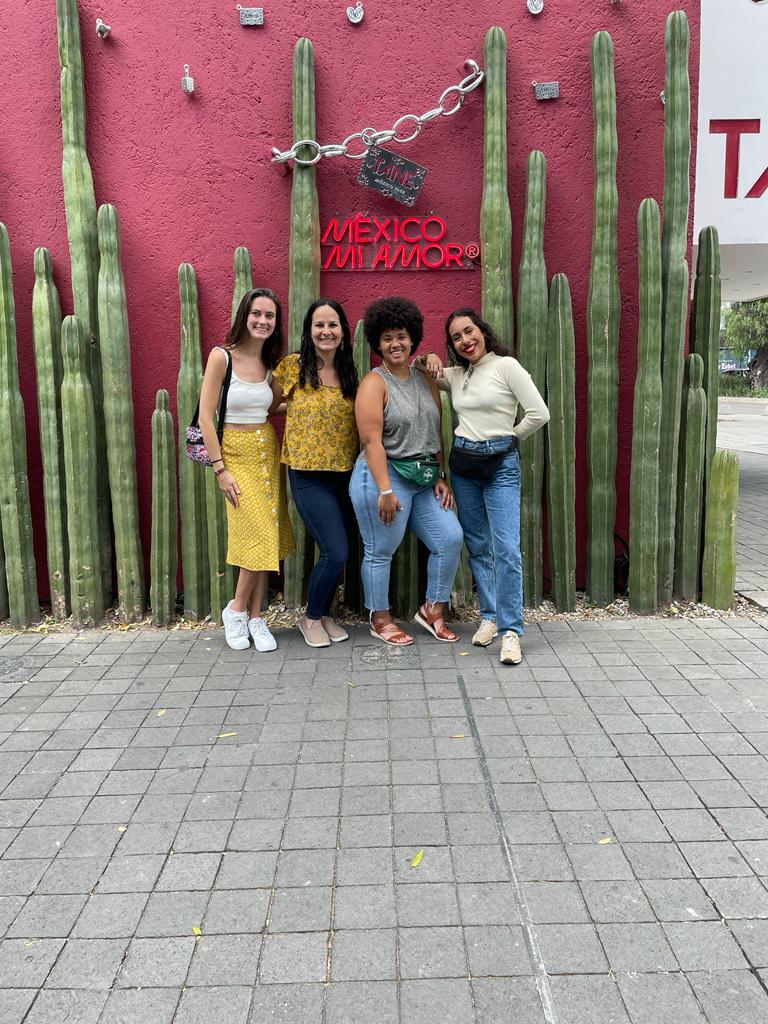 This year, ShesWanderful hosted its first-ever global meetup in Ciudad de Mexico, Mexico. A city I've been fantasizing about since my first visit in the summer of 2016, one of the most challenging and transformative years in my life.
But before I go ranting about the dreams my younger self is obsessed with, what the heck is ShesWanderful?
In a nutshell, ShesWanderful or Wanderful, is an online global community of women who travel. This community consists of avid travelers, solo female travelers, entrepreneurs, travel bloggers, content developers, influencers, travel professionals, or any concoction of the above or perhaps none of the above. We are women who wander and that's wonderful, however it comes. It is a membership-based community, and within this community, you have access and are able to connect, network, and attend webinars on a myriad of topics from the very community members whose expertise range from traveling solo, blog, entrepreneurship, writing, and much more than my brain can remember. As a member one has access to join local meet-ups, join women during personal and professional travels, learn about each other and each others' communities and more. There's a lot happening every day in this online community space. Too much to list out at this point. I learned about Wanderful via my work with RISE Travel Insitute, as a community partner with Wanderful, the company granted RISE staff a free one-year creator membership (the second-tier membership) and I'm now a 2-year member. However, I still feel very new. There's a lot in there.
Global Meet Up:
Thursday
A group of about 40 women from all around the globe, but mostly the US, were hosted in the coworking hostel chain Selina Downtown Mexico City. This co-working hostel is bigger than every other hostel I've ever stayed at. And I've stayed at plenty. The hostel has multiple living rooms of different size and styles, coworking rooms, a kitchen and a cafe, 6 floors of dorms and private rooms, and more than I explored. I stayed in a 4-bedroom, private bathroom female dorm-room with 3 other Wanderful women.
The transportation leading up to arriving at Selina was gruesome, to say the least. Running on one hour of bus-quality sleep and maybe 30 minutes of plane-quality sleep was not where it was at. I'm a victim. A victim of my own travel-fogged brain and this is a perfect example. I wrote about it in this blog entry How Travel Quickly Fools You About Your Age. As you'll read further down, it all came to bite me in the butt later.
Arrival night was the welcome party. Wanderful hosted a gathering in Selina's restaurant area where upon arrival we signed rosters solidifying our attendance to the group trip, were gifted a tote back of Wanderful goodies, and had an array of finger food and unlimited alcoholic drinks made and curated by the hostel restaurant, which may I add is chefs kiss.
The welcome party continued on with mingling, and networking and later unraveled into karaoke and dancing. A lively night to say the least. And I love lively nights, but due to the one hour of bus sleep I was depending on to get me through the entire travel portion of the trip, arrival, and settling in, by 8:30 pm I couldn't stand any longer. I was wearing high booties too. Not the wisest choice of shoewear for a tired and exhausted person. So alas, I went back to the room, showered again, and watched the new Selena Gomez documentary My Mind & Me as I slowly doze off into sleep.
Verdict: You must watch it!
Friday
The next day, Friday, November 4, started out with a slow morning in the dorm room for roommate quality time. After getting dressed for the day, something I changed a few times for because the weather was playing games with me, we all re-met downstairs for breakfast at Selina's restaurant. I selected huevos rancheros with a mug of black coffee. I knew I'd need something to sustain me for a long day of walking and adventuring, a plan I had already solidified with my roommates at the start of the day. I got so lucky in that I was roomed with 3 other girls who were more or less my age. This was a big deal, the roommate situation, because I had felt a little out of place at the welcome party the night before, another reason why I found it easy to go back to my room to sleep and leave the lively party behind. A rare occurrence.
The welcome party the night before was mostly attended by older women, all lovely and wild and definitely who I'd like to grow up to be, but I definitely felt a little out of place. I did find another Wanderful traveler whom I connected with and hung onto throughout the night, but alas, my body was yelling at me for bed that night and I could no longer ignore it.
I consumed my huevos rancheros with a side of black coffee like I hadn't eaten anything all evening prior. We gathered our final things and headed out into the concrete Mexico City jungle.
We trekked for a total of about 16,000 steps in 5 hours. I, alongside 3 other lovely women, Wanderful's Marissa and Rebecca, and Wanderful member Casey, strolled through the Roma Norte neighborhood of Mexico City, visited el Bosque de Chapultapec, and walked some more to another location in the business district of Palermo. Surviving only on the hefty breakfast we had prior, by this point we were hungry and exhausted, but alas, we were on a mission. We took an Uber to the Palacio de Bellas Artes, near the central district, and causally walked to our destination with a few shop stops along the way, making our way to dinner.
Balcon de Zócalo was nestled on the 6th floor of a hotel right next to el Zócalo, modernly decorated with what appeared to be azulejo styled tiles, dark brown furniture, and fresh green plants carefully placed in locations where they could be appreciated by guests. We sat right next to the open overview of the Zócalo. Dinner, dessert, 2 bottles of wine, and a thunderstorm later we were ready to re-meet the entire group at Taqueria Arandas, just two blocks down the street from our fancy bougie dinner.
At the taqueria, where we climbed 3 flights of narrow and steep stairs to the third floor and nestled together on 2 very long tables, we ate some more! Everyone enjoyed a selection of 3 types of meat, a lightly grilled cactus and french fries with a side of tortillas. I, along with a few other veggies, had 2 large delicious quesadillas. One made with mushrooms and one with zucchini flowers. They were so good I took my leftovers home and DID eat them before bed. Okay.
After our meal, everyone traveled home and met up again at Arena México for Lucha Libre night! A new experience for most of the group. The end.
Just kidding. Now to day 3!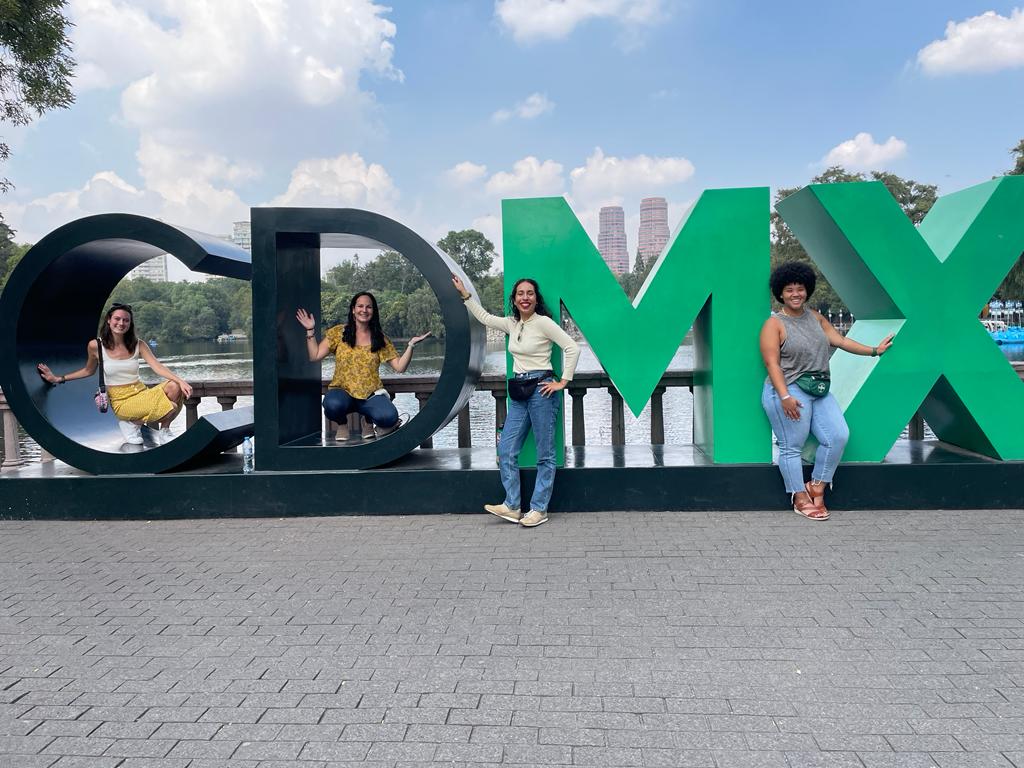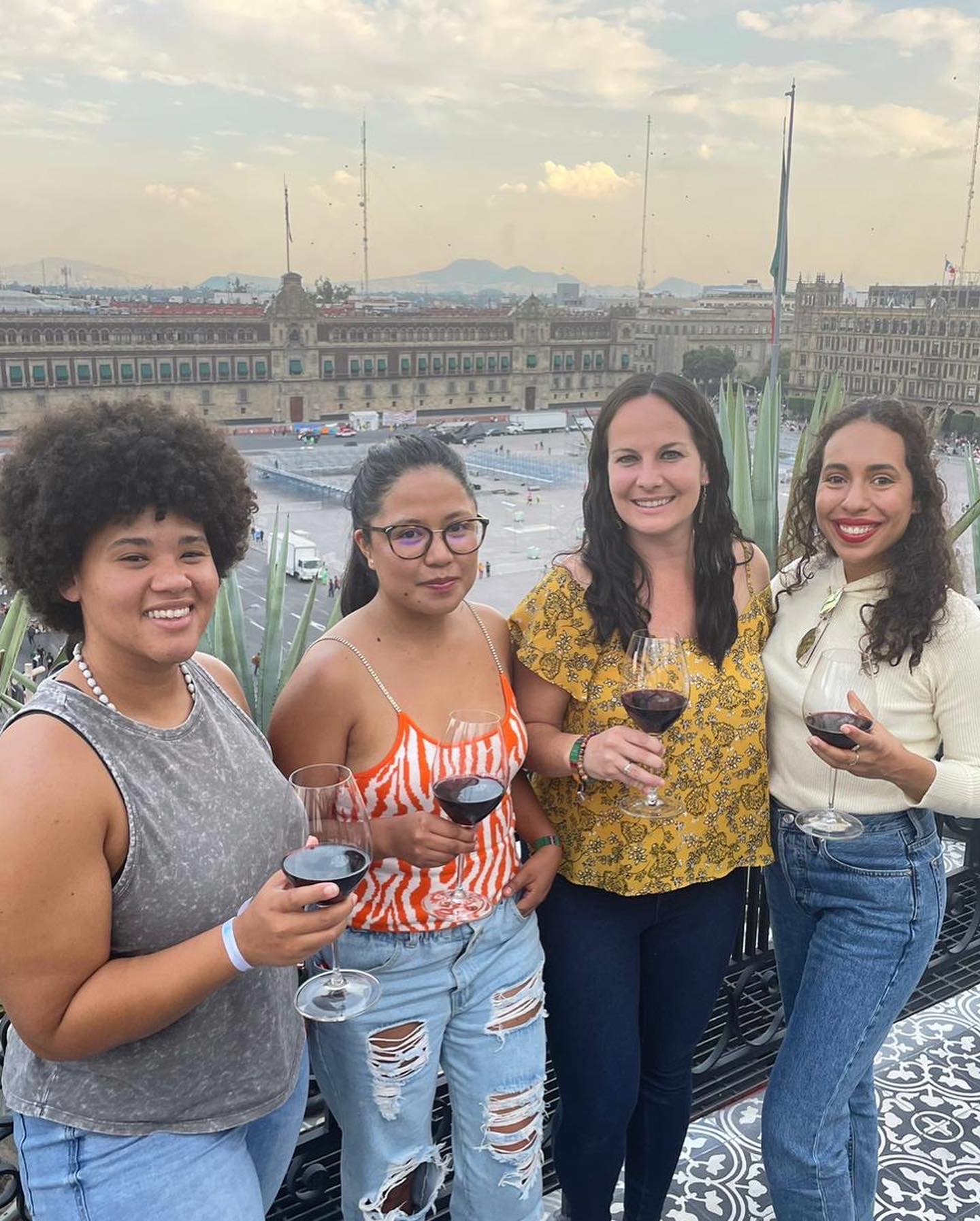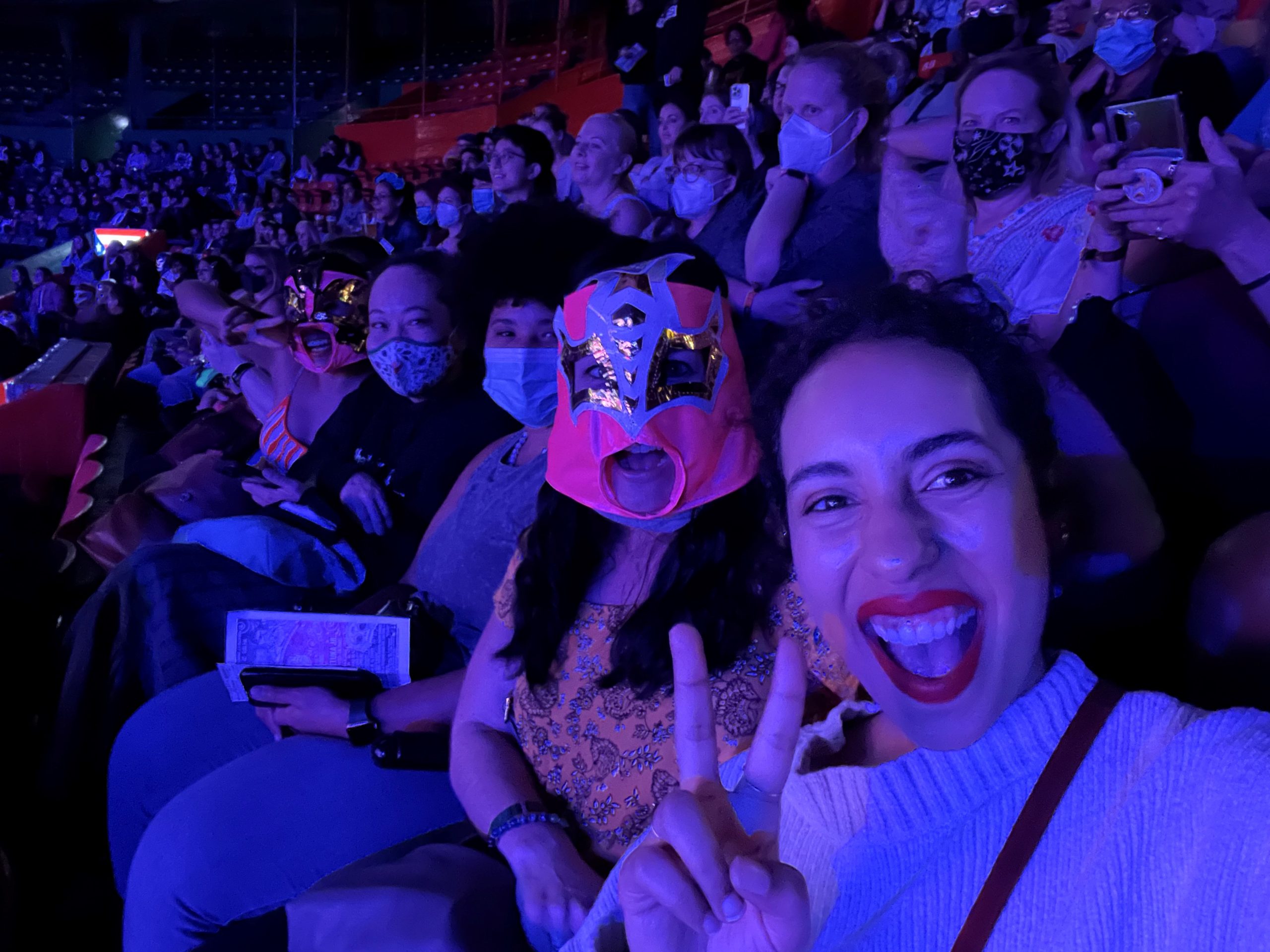 Saturday
The next morning, after breakfast, the majority of the Wanderful group went on an excursion to mezcal tasting and Teotihuacan, the ancient pyramids just outside Mexico City. Having had visit the pyramids in 2016 with family, I didn't feel inclined to join and slept in a little longer than I intended. Proceeded with solo breakfast and my laptop, hello readers, and headed out to La Condesa, a cute and small Mexico City neighborhood, to meet Ana, a local resident whom I recently met the day prior. It's been so great meeting all these new people, a quick and ever-moving reminder of something I love to do, meet and converse and grow. We can't grow without exposure to different, exposure to others, other stories, other realities, other mindsets, other lifestyles, and just other people and places in general.
And I'm a sucker for growing.
La Condesa is a small and very cute neighborhood just a few blocks from El Bosque de Chapultepec. You can imagine the green forest spilling over to the surrounding neighborhoods, finding their dried fallen leaves and their offspring equally scattered throughout the smaller residential streets. Many roads in this area and the surrounding neighborhoods of Roma Norte, Hipodromo Condesa, Polanco, Reforma, and so on are garnished with wide islands in between opposing directional roads. These islands have walkways that are surrounded by greenery on both sides, making not only this pathway, but the streets you drive on,appear to be under an umbrella of trees. Dreaaaamy.
It's safe to say the same neighborhood I drove by 6 years ago preserved its charm, and I'm here for it. Totally here. An artisan market, Mercado, fine diner, and a cafe later, I began to imagine myself walking these streets on a typical Tuesday morning on my way back to my apartment. A girl can dream, right? How to make the dream feel more like a reality, visit a typical Mexican diner and order as if you've been starving for days. Agua de tamarindo, vegetarian posole, and mushroom sope at La Casa De Toño, please.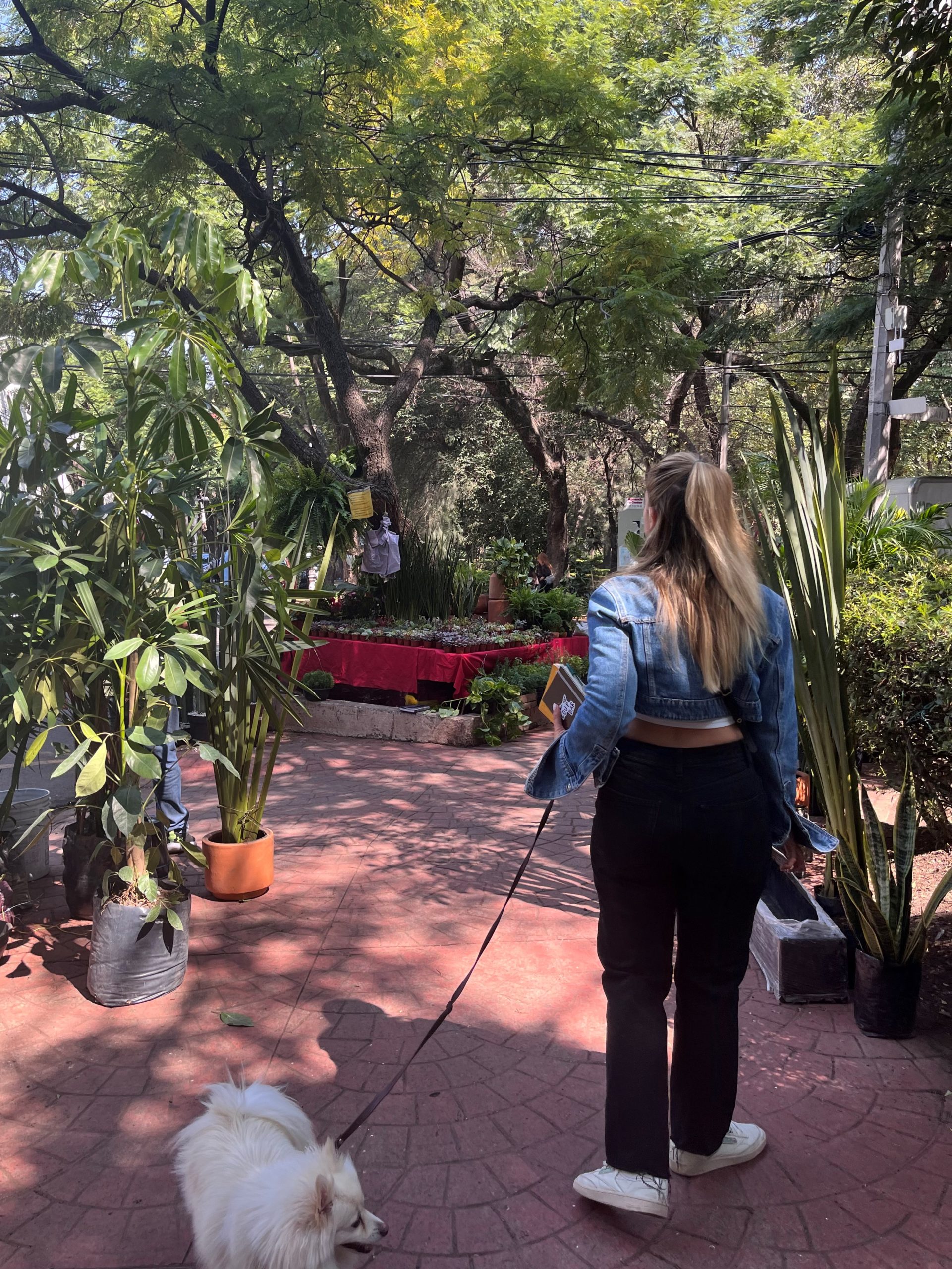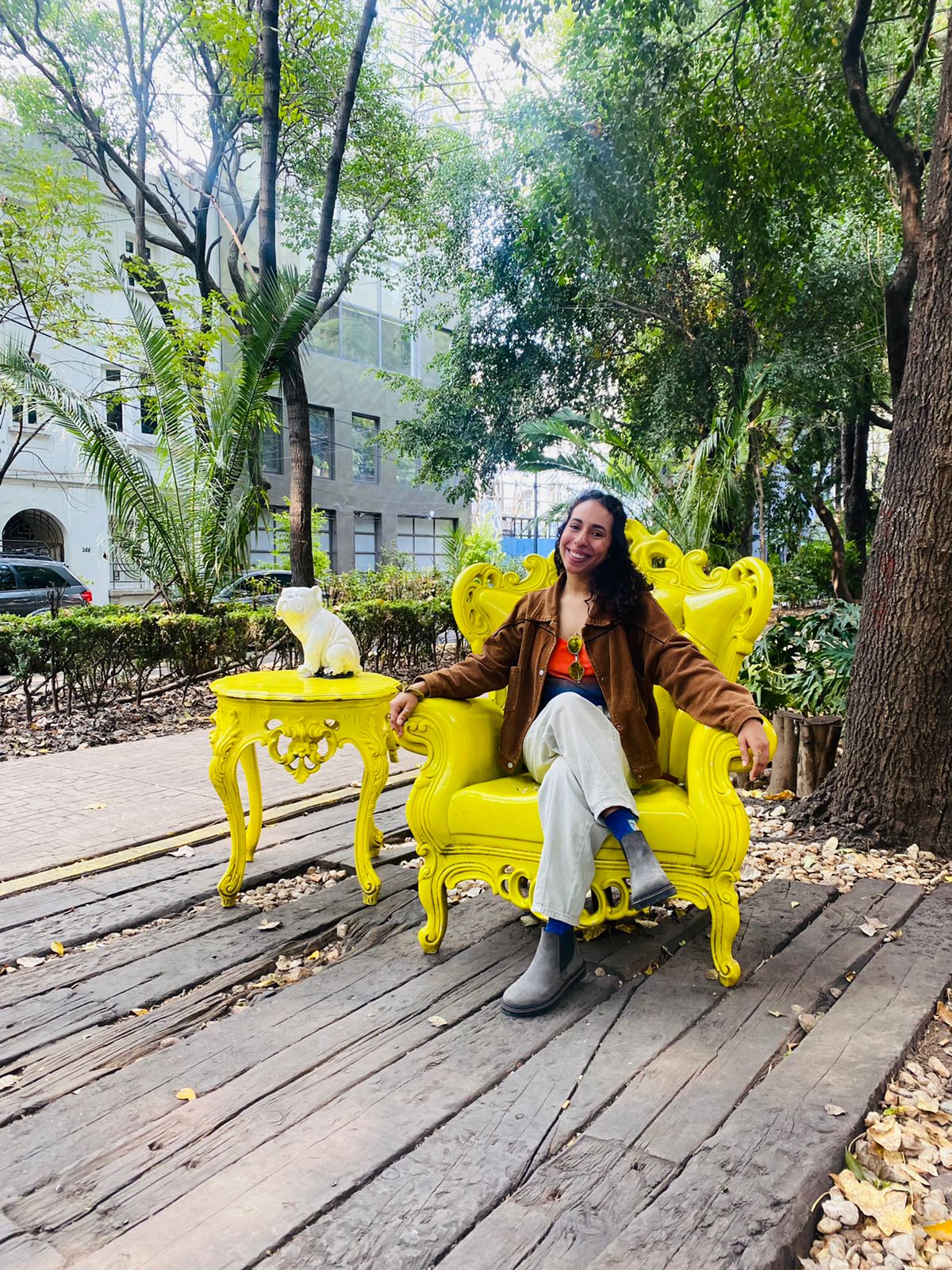 Saturday night, the Wanderful team dressed up in color to meet for dinner at Salon Tenampa at Plaza Garibaldi. A mariachi-filled plaza in the center of the city dressed in vibrant and more than lively restaurants evenly scattered throughout the plaza. You could hear multiple mariachi groups making music for locals enjoying meals and standing around. You can't help but feel alive in this place. The restaurant was a continuation of the happy commotion. The lot of us were seated upstairs in the center, clueless about how the night would unveil. We. Were. Spoiled.
Drinks, margaritas, beers, unlimited botana-style appetizers, the main course, dessert, and more drinks were served throughout the night in a never-ending fashion. I had vegetarian quesadillas, which looked more like empanadas, made with pumpkin and zucchini flowers and topped with shredded iceberg lettuce, sour cream, and queso fresco.
By the end of the night, we had drank plenty, played an electrocution game where we willingly suffered real electrocution, cheered mezcal shots, ordered some mariachi songs from a local group, and danced the night away at our hostel underground party.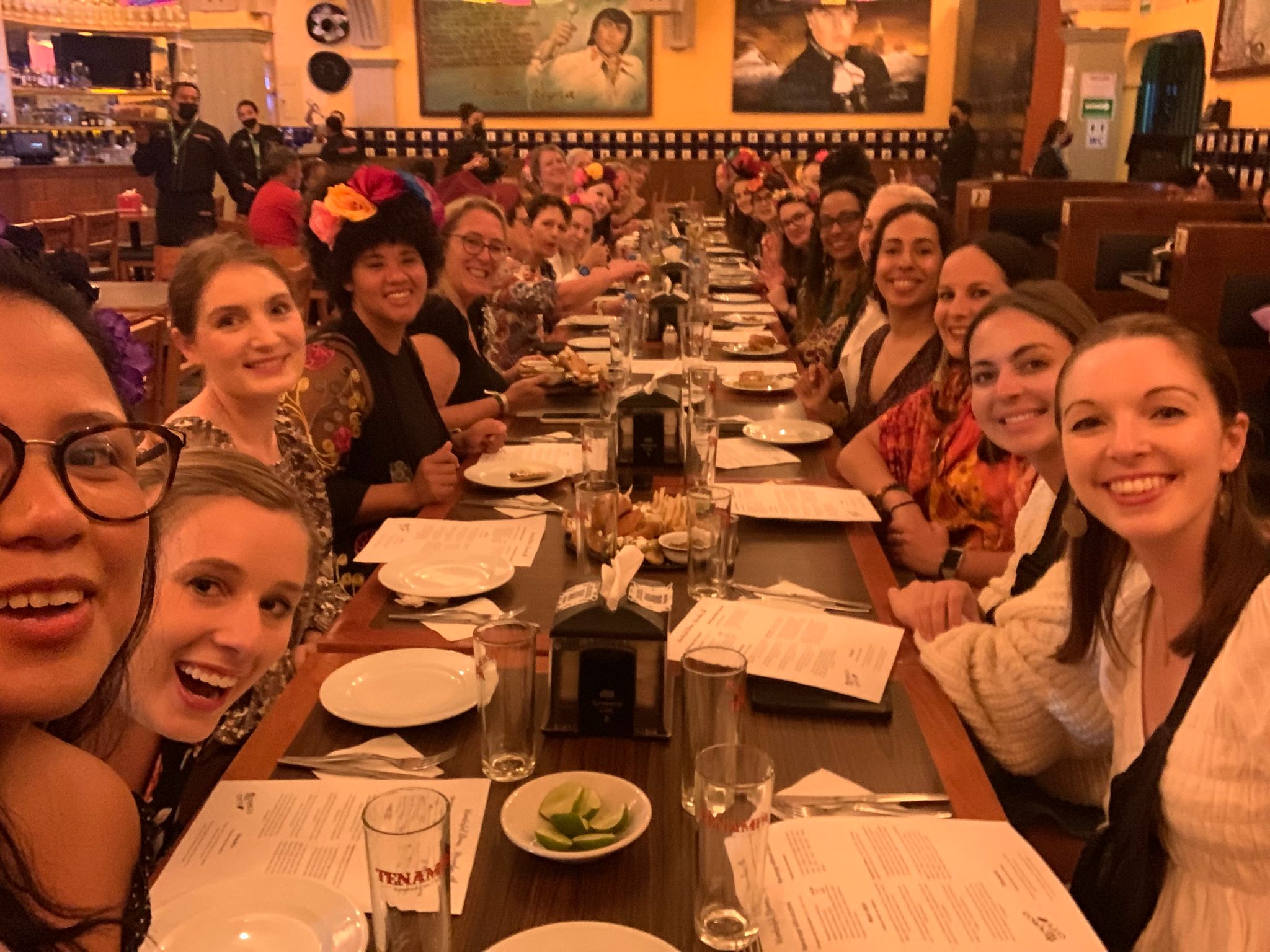 Sunday
Sunday morning was the trip to Xochimilco, a city about an hour from the city center where the locals welcome visitors with a trajinera boat ride through the river. Pam, the founder of picnixhic, organized a lovely breakfast and stroll on her family's trajinera business where they served all 40 of us freshly cut fruit, unlimited cafe de olla, and chilaquiles verdes while strolling us through the river. On the river you'll find local vendors and music groups on their own boats offering their goods and services. If you choose to buy one or more of the many findings: Mexican-styled corn esquite, handcrafted goods, or music requests, the vendor's boats will simply attach themselves to your boat and stroll with you as you continue throughout your floating journey. An experience that has been high on my list couldn't have gone any better without Pam's organizational skills. This is certain.
After the boat ride that lasted about 2 hours, we drove a bit south to Coyacan, home of the Frida Khalo museum and local shopping markets. Here, everyone on the Wanderful group dispersed into their personal shopping trips, back to the hostel or to the airport to catch their flight as this was the final event on the group itinerary.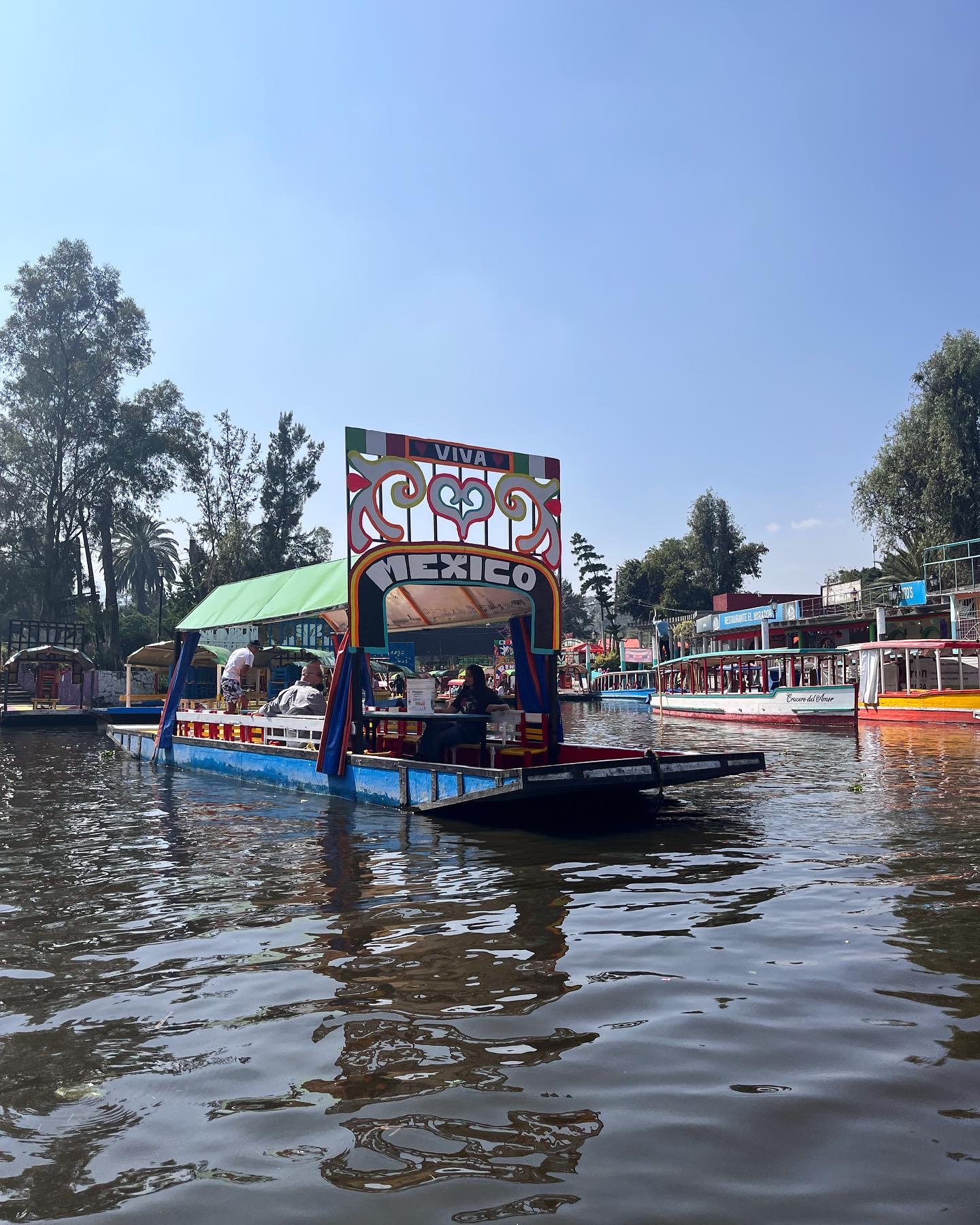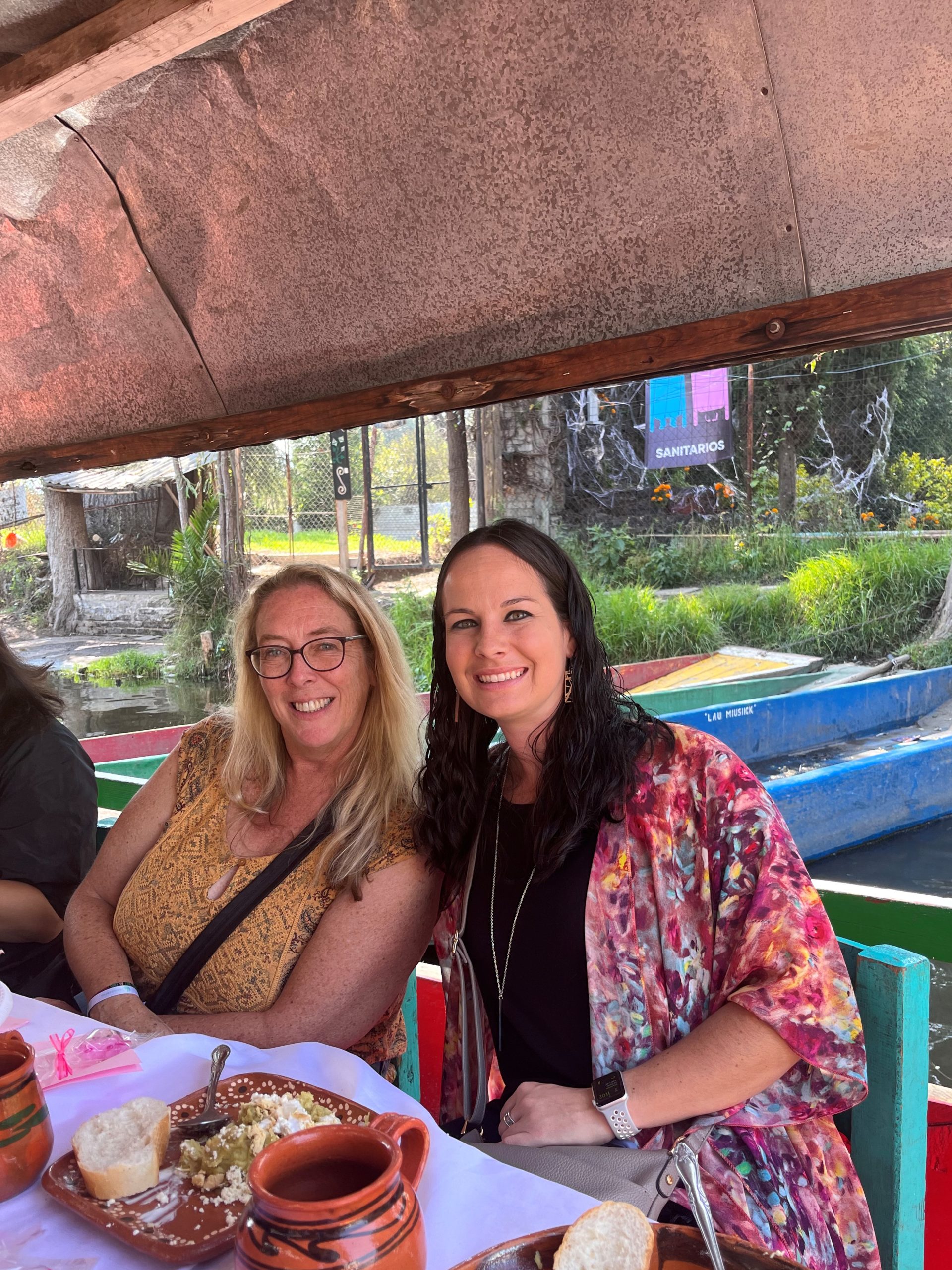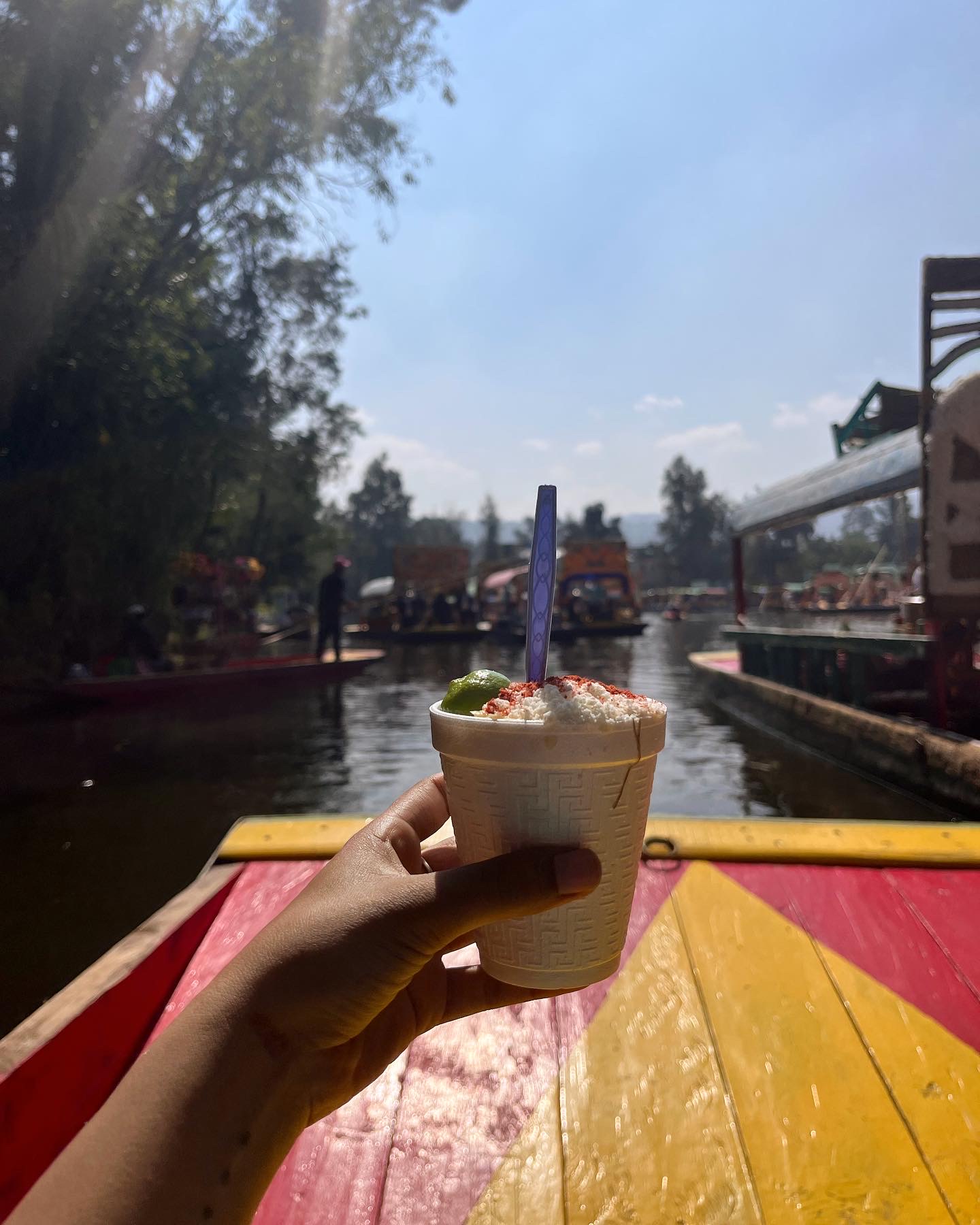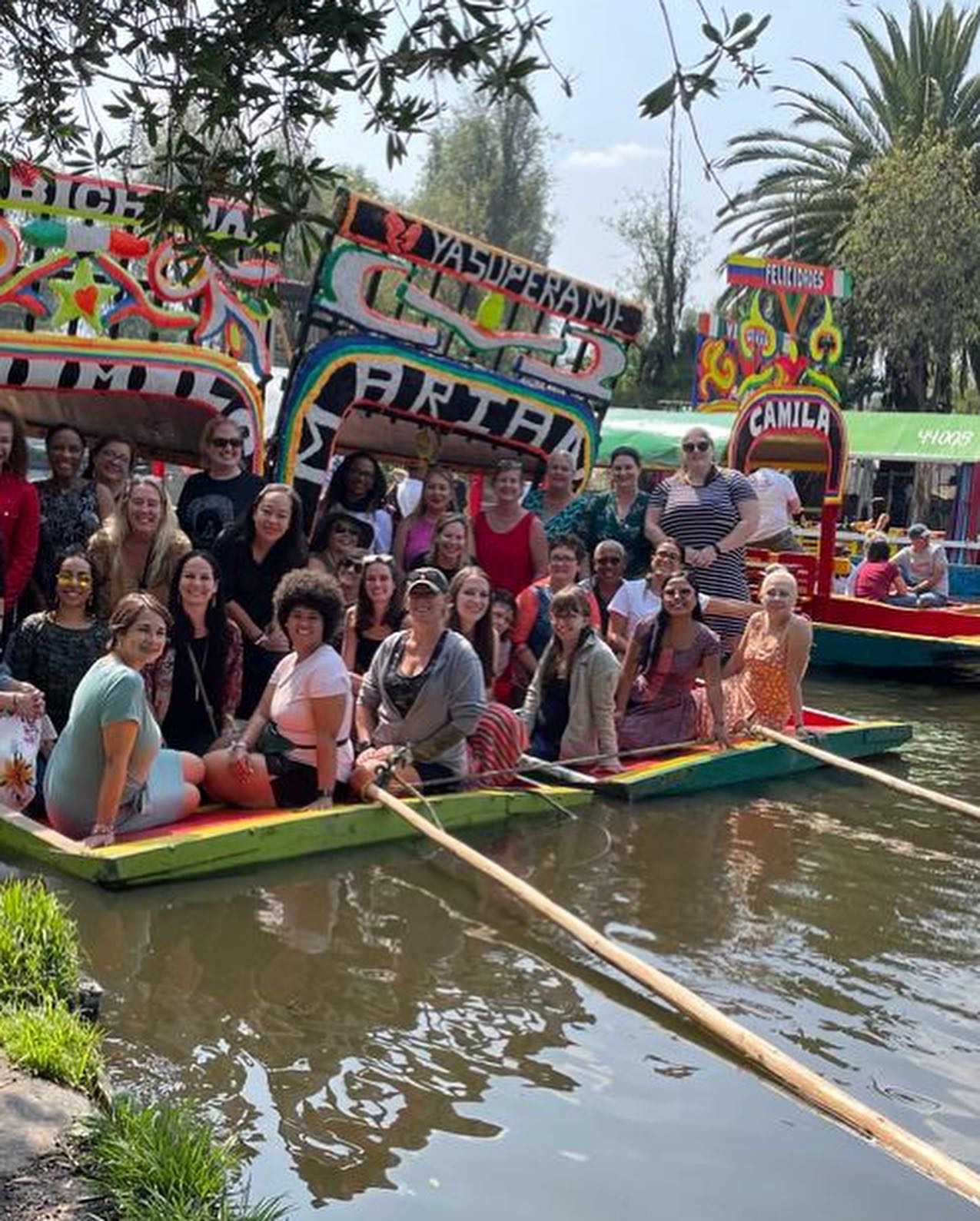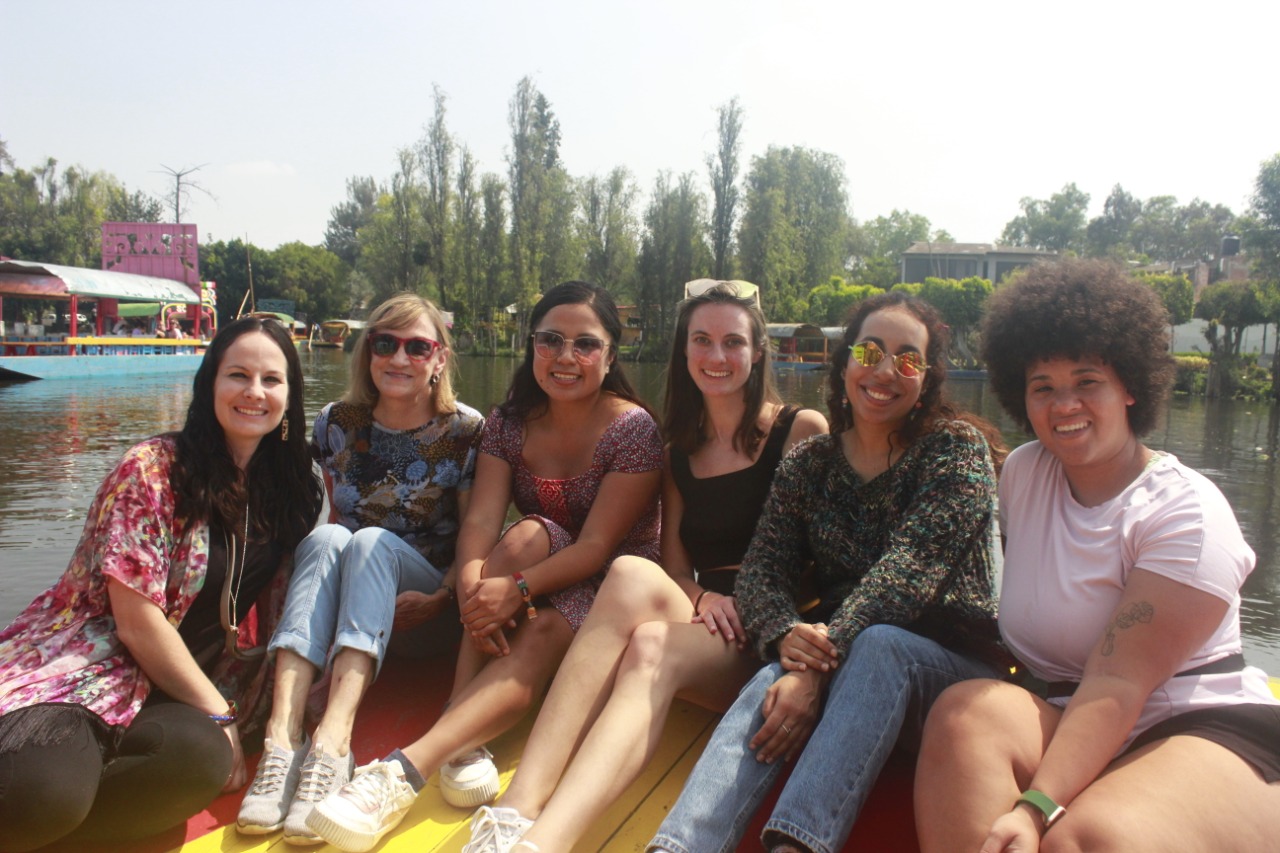 A few of us later joined a member-organized pop-up facial yoga class that was starting at 6 pm. 5 of us met at the Selina hostel lobby, trekked our way up to the wellness room, and enjoyed a peaceful and informative facial yoga class that left us all so relaxed we fell asleep during Shavasana.
After lugging my carry-on to a new hostel and checking in to start my solo part of the trip began, I met with Marissa for a final late-night dinner in Roma Norte's Maize Tinto restaurant before she flew out the next morning. And thus, the Wanderful global meetup as I knew it was over.
I didn't know what to the outcome of this group trip would be. With not knowing a single person but hopeful for the new people I'd meet I didn't expect to feel like I belonged in a sea of so many different and wonderful women, some similar to me, but mostly not. And yet this 4-day group trip felt so quick and so short because of the deep connections that grew in between. We all danced, sang, drank, mingled, laughed, trekked, ate, cheered, ate, drank, danced some more, shopped, sat in silence, and stumbled half asleep for coffee together in a short span. I learned new things, solidified my presence while being open to new, explored the city from a local's perspective, felt at home, felt uneasy, ate delicious food, and truly enjoyed my time with this group of women. I feel like starting my Mexico trip in this group setting was the perfect training to go at it alone.
Monday
Now, one day later, I sit at a local coffee shop, Boicot Coffee, in the Condesa neighborhood to explore just what this city can offer me, and what I can offer it in return. Glasses are on, it's time to work.
Author
Natalie Amezcua
Natalie (she/her/hers) is a humane educator and solutionary writer living in Los Angeles.