I'm never really one for sharing much. But it's a new year and I guess time for new, healthier habits. So I will begin to share.
*Side Note: I recently started and finished watching The Great (TV series starring Elle Fanning and Nicholas Hoult) and I heard a quote that stood out to me like a sore thumb. 
"There is the poetry of what we want and the blood and grind of how we get it" 
And I thought YES, this girl is ready for the blood and grind – no pun intended.
If this year is ever going to be different from the last, and if any one of us is to ever see real tangible change, then we need to do things differently, and frankly not be afraid of doing it – no matter the pain or fear that comes with it. Easier said than done, I know. So I did something a little different this year. I shared my "poetry"–not real poetry, that is yet to come- on Insta (little thing for the world, big thing for me) because now as it is out in the world, I have set myself up for accountability by the familiar and distant strangers social media has granted me. Which let's be honest, isn't much anyway. But let's not focus on numbers here, the important thing is I did it!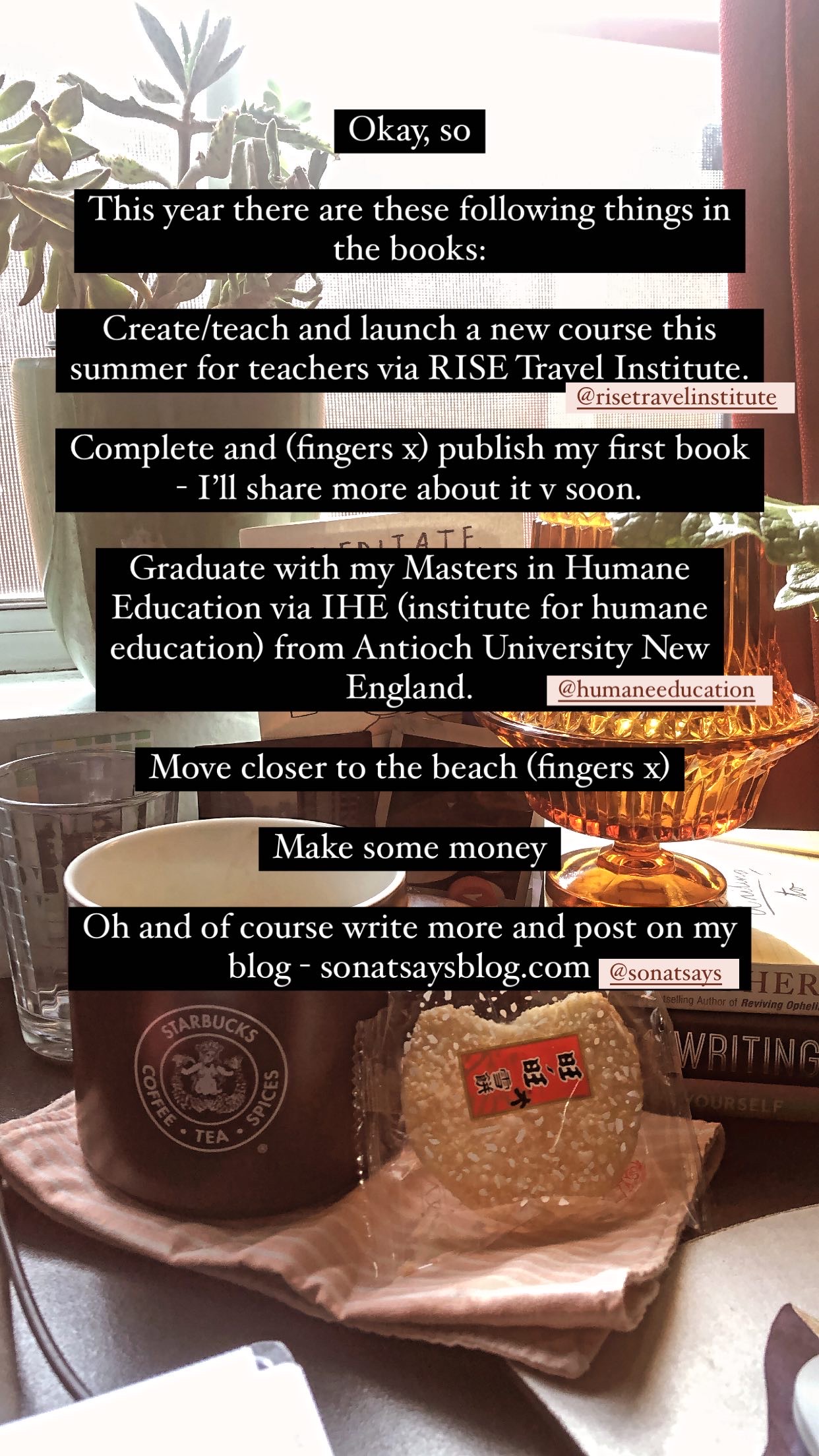 A quick break down:
Create/Teach and launch a new course this summer for teachers via RISE Travel Institute: This startup nonprofit organization is honestly such a pride to work for. Their focus is traveler education for students, professionals and the avid traveler and what makes them so great and is the only reason i dedicate my time to them is because they are epitome of ethical, sustainable and regenerative travel education. Using systems thinking and anti-oppressive lenses framework to build their curriculums. Anyway, I, along with the founder and another colleague and with the mentorship from my advisor, am working on building a new professional development course for K-12 teachers this summer that renews their own interest in education but also redefined the role of travel in education. Its teaacher-focused as opposed to student-focused. Meaning the goal is for the teacher to be renewed rather than treating the teacher as a "vessel" to transfer information to students. 
Book: Yes I am writing a book! It's a book of poems for social justice education. I work to bring the voices of victims to the forefront with transformative and stirring words. I'm not just spit balling here, I highlight real stories and personal stories as well as fictional stories inspired by real people. The purpose is to highlight the systems that perpetuate injustice, violence, and discrimantion in various forms (physical, emotional, social) are outdated. I give some examples and statistics to demonstrate why and how. More on this soon. 
Graduate with MA in Humane Education: After two years i plan to graduate by the end of this summer with my Masters degree. Honestly, this is a bittersweet moment because although it will be nice to have this degree to my name it saddens me that i wont be engaging in class discussions anymore. The community, information and journey its been has been – there are no words- an absolute transformative experience. Each course has been packed with so much stirring information, insight, and just wow factors. I'm not even mad at the tuition debt im in because of it. That's how amazing this journey has been. 
Move closer to beach: It;s only been a month since i originally posted this image and i already know this most likely wont happen. This year anyway. The plan and goal still resides and well, lets see what life has in store for me on this note. 
Money: I just want to be well off and since leaving China and leaving a reaaaalllly good paying job, taking time off to focus on my studies and budgeting like im 21 again, well i want to feel my age again – in the bank. 
Blog: Forcing myself to write on here should be interesting as the months pass by. I invite you to join me in this journey.  
The truth is, I often want change to happen and I can often (or always) be too cowardly to believe that I can, hence debilitating myself to do. So I'm putting this year's agenda out there in the open void of the internet hoping it'll help in this little unhealthy ritual I have with myself. This is purely for me. It is something I hope will force me to work extra long hours on the days and nights when my eyes are too puffy to see clearly, or when my heart is exhausted from expanding itself too big for its own sake. My intent is not to overshare. I'm just trying to be bold in my own small way.
P.s. You see, I still do it. Did it there–make myself feel small by reiterating that it's "not a big deal"–such as this outward message I've set up for myself isn't some truly grand gesture in my heart. Just a small form of self-sabotage I still need to learn to defeat. 
I do hope to share more of my goals for this year, especially the book. That is one I am extremely proud of because it's been an entirely solo project and so has been the loneliest and most difficult to work on. I am an introverted extrovert so I love socializing and so I don't do too well with entirely solo things. Lately though, being alone has been hard because it's rarely been peaceful. And last year was the loneliest year I've ever had. But alas, a new year better me. You all are my witnesses. 
Thank you for listening to this 28-year-old heart. May the odds be ever in our favor this year, 2022.
Author
Natalie Amezcua
Natalie (she/her/hers) is a humane educator and solutionary writer living in Los Angeles.